Gallery
---
Our Gallery activities provide some of our service , as below our some documentation for our work activities .

Importing machine from China , wooden vaccum machine which this machine is a very important machine fow wooden industries / factories in our region , Jepara .

Double forklift to placing the machine on ground . we could provide you our Import service for machine , toys , furnitures etc  with a very reasonable rate .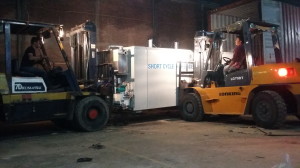 ---
FCL ( FULL CONTAINER LOADING )
Full container loadding activity , documentation from some of our loyal customer . We mostly load furnitures whether its wooden , synthetic rattan , or even aluminum or copper . and all of the cargo we handled , use Tanjung Emas Seaport , Semarang .
Starting from booking , custom clearance and documentation for custom , we could provide our proffessional service in which will gonna benefit for the customer .
Inspection for commodity which will be loadded is a must from our company service , because to minimize problem in custom .
we have been deliver lots of container since 2001 and its increasing every year , from and to Tj Emas Seaport . Theref0re our experience will provide you our best service to your business satisfaction and increase your benefit.
---
LCL (LESS CONTAINER LOADING)
Less Container Loadding or LCL is one of our popular service we open consolidation every thursday and vessel every saturday . with our personal pick up car and truck we belive we could give a very rational price rate for trucking from Jepara region to TJ Emas Semarang sea port , we have been work with direct consignee in abroad , we pick the goods in suppliers and manage the delivery , easy business for our customer's abroad , we give update by email regarding about all the process .
our covering area for LCL , Central Java , West java , East Java and Bali .
---
CONTAINER YARD 
SEMARANG SEA PORT- TANJUNG EMAS
---